Texas
Real Estate Education
Providing Top Quality Real Estate License Education in Texas for Over 30 Years!
Our focus has always been on providing you with an excellent education experience regardless of what stage of your Real Estate career you are in. Whether you need Qualifying Education (QE) to start your career, Sales Agent Apprentice Education (SAE) to build your career, or Continuing Education (CE) to keep your license active, Champions School of Real Estate® is here to help you succeed.
Make a Selection to Get Started
Most Popular Real Estate License Programs

Choose a Program to Enroll
To purchase a package, choose your preferred delivery method from the appropriate dropdown below. To mix-and-match multiple delivery methods, you can choose the Champions Advantage option.
Set Your Real Estate License Education Course Schedule.
Classroom, Online, or in the Virtual Classroom!
Blended Classroom
The best of on-campus classroom and home-study with textbooks.
For students who learn best in a class environment. Study the material before class and spend class-time learning from a teacher.
(Real Estate QE & SAE Only)
Virtual Classroom
Combination of instructor-led ChampionsLIVE!® streaming and home-study.
Best for remote students who want the classroom experience streamed to their home or office. Study before class and spend time with a real-teacher remotely at home.
Online-Interactive new!
An interactive course with video, modules, and exercises that works on any mobile device with an internet connection.
For remote students who learn best with video and interactive activities. Work through the (timed) guided modules and then take the quizzes and exams on any device with internet.
Learn More
Online-Correspondence
Self-paced, online learning with PDF or hardcopy textbook.
For remote students who learn best studying by themselves. Download PDFs or use hardcopy textbooks. Take quizzes and exams on any device with internet.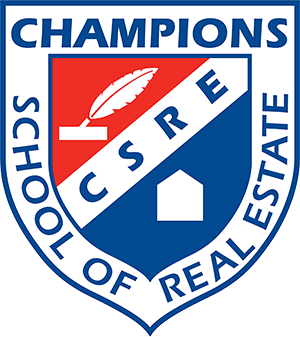 Champions Advantage
Choose one delivery method or try them all. Transfer anytime. That's the Champions Advantage. Learn More
Customize a program to fit your needs by utilizing all of our delivery methods and resources. Choose a different delivery method for each course and switch between them to find your best learning environment. No other Real Estate school offers this level of flexibility and convenience.