Online Interactive

Texas Real Estate
License Courses
Get your Real Estate License education on a Mobile Web App
Introducing Online Interactive Texas Real Estate Classes
Immersive Online
Interactive Course Features:
Engaging Animations and Videos
Bookmarking/Progress Tracking
24/7 Course Access
Cross Platform Compatibility
Exam Proctoring Included
What Devices can students use to access their class?
Any device with access to a web browser and a stable internet connection (any phone, tablet, laptop, or desktop device), will allow you to access our new online real estate classes.
View System Requirements
System Requirements / Recommendations
Desktop Operating System

Mac OS X 10.9+
Microsoft Windows 7+

Mobile Operating System

iPad/iPhone: iOS 9+
Android tablets/phones: Android OS 8+

Browsers

For Windows:

Explorer 10+
Google Chrome version 51+
Mozilla Firefox version 4.0 or newer

We do not recommend using Microsoft Edge Legacy for our courses. If you choose to use Edge, please use the new Microsoft Edge available here.

For Mac:

Current version of Safari, Firefox or Chrome

Connection Speeds

Internet Connection of 56K or faster
Wi-Fi: 6 MBPS+ recommended

Browser Permissions

Cookies Enabled
JavaScript Enabled
Allow Pop-ups
All 6 Real Estate License (QE) Classes Available Now!
Our teams of subject matter experts and designers worked together to develop these new online Real Estate classes; A brand new delivery method for our Real Estate school!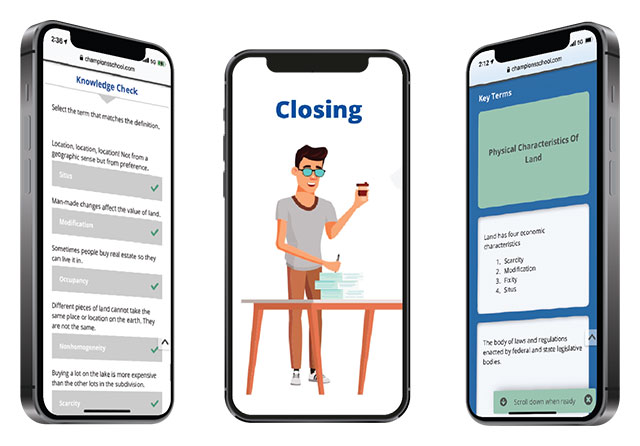 What is a Mobile Web App?
Any device with access to a web browser and a stable internet connection will give you access to our new Real Estate classes! There are no downloads or installations needed!
Read FAQs
Why do the majority of Realtors in the state of Texas choose Champions School of Real Estate?
It's simple. We offer high-quality education, superior student support, and make learning convenient with four different delivery methods to choose from!
Superior Customer Service
No Hidden Fees
Custom Delivery Methods
One-Stop Career Resource

Learn More
Which Delivery Method is Right for You?
The choice is yours! Based on your schedule or learning style, Champions School of Real Estate offers four unique delivery methods for your Texas Real Estate License courses. The best part? You don't have to pick just one - you can transfer between delivery methods at any time! That's the Champions Advantage
Learn More
Online-

Interactive

Online-

Correspondence
Cross-platform Software
Desktop / Tablet / Mobile
Online Exam Proctoring
24/7 Course Access
Self-Paced
Engaging Videos
Animated Content
Interactive Content
Timed Chapter Modules
Progress-Tracking
Downloadable Textbook
Program
6-Course Licensing Program + Exam Prep
Price
$980
$980
Savings
$130
$130
Enroll Now
Enroll Now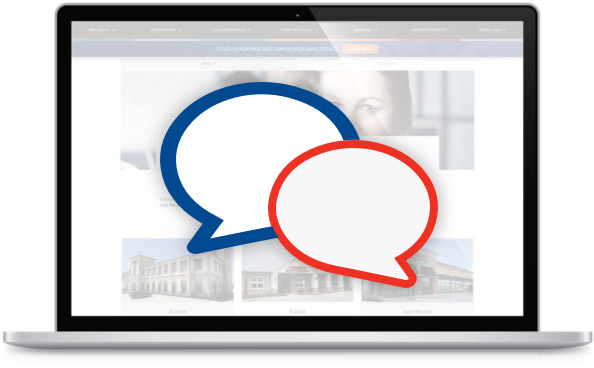 More Questions?
We Have Answers!
Contact a counselor on Chat or Call a Campus.
Contact a Counselor
Set Your Real Estate License Education Course Schedule.
Classroom, Online, or in the Virtual Classroom!
Blended Classroom
The best of on-campus classroom and home-study with textbooks.
For students who learn best in a class environment. Study the material before class and spend class-time learning from a teacher.
(Real Estate QE & SAE Only)
Online-Interactive new!
An interactive course with video, modules, and exercises that works on any mobile device with an internet connection.
For remote students who learn best with video and interactive activities. Work through the (timed) guided modules and then take the quizzes and exams on any device with internet.
Learn More
Virtual Classroom
Combination of instructor-led ChampionsLIVE!® streaming and home-study.
Best for remote students who want the classroom experience streamed to their home or office. Study before class and spend time with a real-teacher remotely at home.
Online-Correspondence
Self-paced, online learning with PDF or hardcopy textbook.
For remote students who learn best studying by themselves. Download PDFs or use hardcopy textbooks. Take quizzes and exams on any device with internet.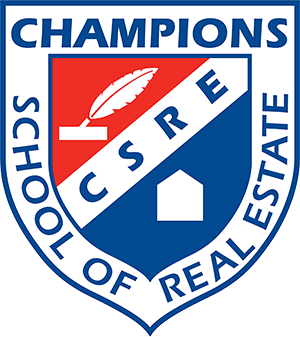 Champions Advantage
Choose one delivery method or try them all. Transfer anytime. That's the Champions Advantage. Learn More
Customize a program to fit your needs by utilizing all of our delivery methods and resources. Choose a different delivery method for each course and switch between them to find your best learning environment. No other Real Estate school offers this level of flexibility and convenience.
Frequently Asked Questions
The following questions pertain to our new Online-Interactive courses and should help you choose the right delivery method for you.
What is the Online-Interactive course delivery method?
The Online-Interactive course delivery method is a timed, module-based, interactive class that students will access from their ChampionsSchool.com account. This delivery method features instructor-led videos and interactive activities that students complete as they progress from module to module. Students cannot move on to the chapter quiz for a module until the required time is spent in the Chapter module.
What is the difference between Online Correspondence and Online-Interactive?
With Online Correspondence, students can either download a PDF textbook, pick up a hard copy at a campus or have textbook(s) shipped to them. Students will read through the material chapter by chapter, and after each chapter, they log in to their course online and complete a multiple-choice chapter quiz. Once all chapter quizzes are passed, they can schedule to take their proctored exam online or at a campus. In the Online-Interactive delivery method, students will watch videos and complete activities in a module. Each module is timed, and they cannot move on to the module quiz until the time for the module is complete. Once all module quizzes for the course are completed, they'll be able to schedule their proctored exams either online or at a campus.
What devices can I use to access my class?
Any phone, tablet, laptop, or desktop device with access to a web browser. We recommend the latest versions of the following browsers: Safari, Google Chrome, Firefox, or Internet Explorer. Students can switch between devices, but students need to know that if they have two devices logged in, the program will save the progress from the last device they logged out of.
Example: Let's say a student is working on their course from a laptop/desktop, leaves it open (without logging out), and then moves to a mobile device to continue their progress. If the student logs out of the mobile device first and then goes and logs out the laptop, it will remember the course location on the laptop, not the mobile device, as the system records where they last logged out.
What courses are available for the new delivery method?
The Online-Interactive courses are currently available for the six state-required real estate pre-licensing courses. SAE and CE courses are currently under development, but we don't have a release date at this time.
Do I need to download anything to start the classes?
No, you do not need to download any special software. Once you are registered for your course, you will be able to access it from the "My Classes" section in your ChampionsSchool.com student account.
Who do I need to speak to if we have any
technical issues

?
First, we recommend that you clear your cache and do a hard refresh on your browser. If this does not solve the issue, please email support@championsschool.com with the problems you are experiencing. To hard refresh a browser:
Chrome, Firefox, or Edge for Windows:

Press Ctrl+F5 (If that doesn't work, try Shift+F5 or Ctrl+Shift+R)

Chrome or Firefox for Mac:

Press Shift+Command+R.

Safari for Mac:

Press Command+Option+E to empty the cache, then hold down Shift and click Reload in the toolbar.

Safari for iPhone and iPad:

There's no shortcut to force a cache refresh; dig into settings to erase the browser's cache.
Does a textbook come with the Online-Interactive course?
No. These are true online interactive courses; a textbook is not needed. If a student would still like a textbook, they will not have to purchase them.
Important: Students need to know that the Online-Interactive courses do not align with the textbooks. If students are picking textbooks up or having textbooks shipped to them, the textbooks are for supplemental purposes only.
Who do I need to speak to if I have questions about the
content

?