Texas Real Estate
License Requirements
Everything You Need to Know to Meet the Real Estate License Requirements!
If you want to be a Texas Real Estate Sales Agent, there are defined license requirements besides the Qualifying Education (QE) a person must meet to become licensed. The steps outlined below are a thorough guide to help you along your new Real Estate career path. Included are time and budget estimates to help answer common questions like "how long does it take to get my license" and "how much does it cost to get a Texas Real Estate license". With over 35 years of experience as a Texas Real Estate education provider, we offer you a realistic estimate of education costs and exact fees required by the Texas Real Estate Commission (TREC) to meet the Texas Real Estate license requirements.
Basic Requirements to Apply for a Texas Real Estate License
Citizen of the United States or lawfully admitted alien

A DACA recipient does not qualify as a lawfully admitted alien.

18 years of age or older
Meet TREC's qualifications for honesty, trustworthiness, and integrity (TREC recommends submitting an optional 'Fitness Determination' form if you have any criminal offenses, unpaid judgments, etc.) The Fitness Determination process is cheaper than paying for an application, examination, and education necessary to receive a license if you do not meet the qualifications for honesty, trustworthiness, and integrity. Please do not submit a Fitness Determination form if you do not have any criminal offenses or already have a pending application with TREC. Please refer to the TREC website for more information on the topic of fitness determination.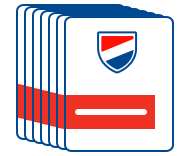 Step 1: Complete the 6 Required Texas Real Estate Commission (TREC) Courses
These six, 30-hour Real Estate Qualifying Education (QE) courses are required by the Texas Real Estate Commission (TREC) in order to meet the educational requirements for your Texas Real Estate License.
Principles of Real Estate 1
Principles of Real Estate 2
Law of Agency
Law of Contracts
Real Estate Finance
Promulgated Contract Forms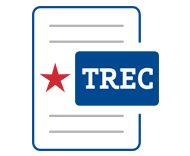 Step 2: Create an Account in TREC's 'My License' System. Submit Online Application and Course Certificates for an Inactive License
Once you have completed your courses with Champions School of Real Estate, gather your course completion certificates and go to www.trec.texas.gov, click on "Real Estate Sales Agent" in the "Become Licensed" dropdown menu at the top of the page.
Under "File Your Application," click "Online Services."
On the login screen, under "New User," click "Begin Here for Sign-Up."
Fill out all the required information to set up your account and follow the instructions.
All applicants for a real estate license are considered inactive until they are sponsored by a Texas Real Estate Broker. Once you have passed the state exam and found a sponsoring Broker, you are considered an active Real Estate Sales Agent in the state of Texas.
Fax (512-936-3864) OR Email (documents@trec.texas.gov) the following:
A copy of ALL course completion certificates
Include college transcripts if applicable
FAX: Use your application receipt as your cover sheet
Email: Attach certificates and receipt. Include your name and address in the body of the email.
If you already have a sponsoring broker, the Broker Sponsorship can be completed and submitted to TREC at any time, but you will not receive an active license until you have a sponsoring Broker.
Once the application is filed and all documents sent to TREC, it may take up to 14 business days to receive a response.
Please Note - You have one year from the filing date of your Application for Inactive Real Estate Sales Agent License to meet all of the requirements for a real estate license. If the requirements are not met within that year, your application expires and you must submit a new one.
Application Processing Times - TREC has set up the following page to communicate the current TREC processing times to license applicants. - TREC Processing Times.
Check Application Status - TREC has set up the following page to allow applicants to check the status of their existing license application. If you have submitted an application and are wondering about the status, this is a good place to start. - Check Application Status.
Estimated Time:
7 - 14 Business Days
Estimated Cost:
$185 Application Fee
Read More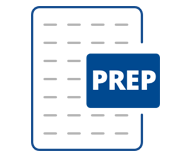 Step 3: Take the State Exam Prep Class at Champions School of Real Estate®
Once you have submitted your application to TREC, it can take them as long as four weeks to review your application and education. During this review period, we highly recommend that you complete the Real Estate Exam Prep course to ensure that you are prepared for the State and National Exam. This class will take the guesswork and stress out of testing. You may repeat the course as many times as you want for a full year at no additional cost to you! We recommend taking the Prep class at least two times and passing with an 80% or better before taking the actual exam.
Step 4: Receive Your Exam Eligibility Notification from TREC and Schedule the State Exam at Pearson VUE
Once you receive the eligibility letter from TREC, you must sign up to take the state exam at a Pearson VUE Testing Center. Your exam eligibility letter will include instructions for contacting the exam administrator and obtaining a copy of the Candidate Handbook. The Candidate Handbook contains information about the examination, study material, and instructions for making an exam reservation. You can call Pearson Vue at 800-997-1248 to schedule your exam. Walk-in examinations are not available.
The cost for the exam is $43 payable to Pearson Vue and must be paid at the time of reservation by credit card, debit card, voucher, or electronic check. Payment will not be accepted at the test center. Examination fees are non-refundable and non-transferable.
Candidates must bring two forms of current signature identification ID to the testing center the day of your exam. The primary ID must be government issued and photo-bearing. No personal items are allowed in the exam. Calculators are not required but are recommended. Cell phone calculators are not allowed.
There are two portions to the state exam; a national portion and a state portion. The national portion has 85 questions (which includes 5 pretest questions) and you have 150 minutes to complete it. The state portion has 40 questions (which include 5 pretest questions) and you have 90 minutes to complete this portion. Pretest questions are not identified and will not affect a candidate's score in any way.
You must pass both portions of the exam with at least a 70% to obtain your license.
Please Note - You must pass the State Exam within one year of submitting your Application for Inactive Real Estate Sales Agent License. If either portion of the exam is failed three times, you are required to take an additional 30-hours of qualifying education before you can register for re-examination.
Estimated Time:
7 - 10 Business Days
Estimated Cost:
$43 Exam Fee
Read More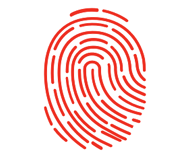 Step 5: Get Your Fingerprints Taken and Pass Your Background Check
While taking the State Exam Prep course it is recommended that you have your fingerprinting done. Pursuant to §1101.3521 of the Texas Real Estate License Act, any person applying for a broker or salesperson license must be fingerprinted specifically for TREC and pass a background history check before a license will issue. If you schedule your fingerprinting after passing your state exam, your license will not issue until TREC receives your criminal history report from the DPS and the FBI and clears your background history check.
Electronic fingerprinting is encouraged by TREC and costs ($41.45). To have this done visit the TREC website and follow these steps to schedule an appointment and complete your fingerprinting/background check:
Select "Real Estate Sales Agent" from the "Become Licensed" dropdown menu.
Under "Get Your Fingerprints Taken and Pass Your Background Check," click on "Fingerprints."
Search for your account using either your TREC ID or first name, last name, and birth date to obtain your "Get IdentoGO ID."
You can now use your IdentoGO ID _______ to schedule an appointment at the IdentgoGO website.
Please remember to bring your TREC exam eligibility letter to your fingerprinting appointment. You will not receive a fingerprint card as it will be sent electronically to the DPS and the FBI. The fingerprinting agent will give you a receipt of services. Save this receipt for your records.
You also can call (888) 467-2080 to schedule your fingerprints. You will need your TREC ID number from the eligibility letter.
Estimated Time:
7 - 10 Business Days
Estimated Cost:
$38.25 Fingerprinting Fee
Read More
Almost done... you are now an Inactive Texas Real Estate Sales Agent!
To become an Active Sales Agent, find a Sponsoring Broker and submit a Sponsoring Broker Form to TREC.
Congratulations! Your Active Sales Agent License will arrive in an email to both you and your Sponsoring Broker. You can also look up your public license number under TREC's License Holder Search feature on their website.
Most Popular Real Estate License Programs

Choose a Program to Enroll
To purchase a package, choose your preferred delivery method from the appropriate dropdown below. To mix-and-match multiple delivery methods, you can choose the Champions Advantage option.
Set Your Real Estate License Education Course Schedule.
Classroom, Online, or in the Virtual Classroom!
Blended Classroom
The best of on-campus classroom and home-study with textbooks.
For students who learn best in a class environment. Study the material before class and spend class-time learning from a teacher.
(Real Estate QE & SAE Only)
Virtual Classroom
Combination of instructor-led ChampionsLIVE!® streaming and home-study.
Best for remote students who want the classroom experience streamed to their home or office. Study before class and spend time with a real-teacher remotely at home.
Online-Interactive new!
An interactive course with video, modules, and exercises that works on any mobile device with an internet connection.
For remote students who learn best with video and interactive activities. Work through the (timed) guided modules and then take the quizzes and exams on any device with internet.
Learn More
Online-Correspondence
Self-paced, online learning with PDF or hardcopy textbook.
For remote students who learn best studying by themselves. Download PDFs or use hardcopy textbooks. Take quizzes and exams on any device with internet.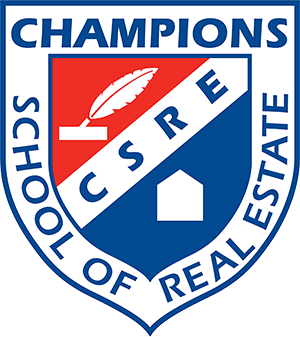 Champions Advantage
Choose one delivery method or try them all. Transfer anytime. That's the Champions Advantage. Learn More
Customize a program to fit your needs by utilizing all of our delivery methods and resources. Choose a different delivery method for each course and switch between them to find your best learning environment. No other Real Estate school offers this level of flexibility and convenience.
Individual Real Estate QE Courses
Each of the courses listed below are required by TREC in order to attain a Texas Real Estate License. All of the courses are also available at a discounted rate when purchased together in one of the QE programs listed above.